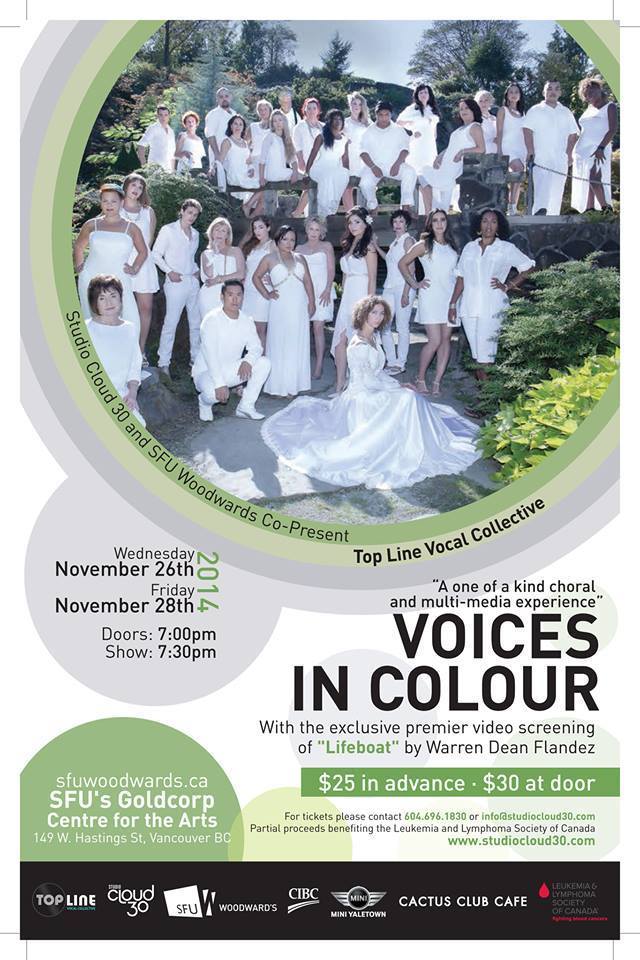 Address :
148 West Hastings Street. Vancouver, BC
Vancouver, BC
Voices In Colour @ SFU's Goldcorp Centre for the Arts
Top Line Vocal Collective Announces "Voices In Colour" Concert, November 26th & 28th. Partial proceeds to benefit the Leukemia and Lymphoma Society of Canada.
VANCOUVER, BC, 2014 – Studio Cloud 30, Vancouver's leading talent development agency, has partnered with cultural and community engagement staple SFU Woodwards to co-present Top Line Vocal Collective in the "Voices In Colour" concert Wednesday, Nov. 26 and Friday, Nov. 28 at the Goldcorp Centre for the Arts.
With support from local sponsors CIBC, Mini Yaletown and Cactus Club Cafe, this red carpet event will feature a diverse range of contemporary hits from popular artists such as En Vogue, Fleetwood Mac, Lorde and Michael Jackson. Partial proceeds will benefit the Leukemia & Lymphoma Society of Canada.
"We are delighted that Top Line Vocal Collective has chosen us to be their charity of choice," said Liz Harris, Executive Director, BC/Yukon Region, LLS. "As a registered charity, we are dependent on the support of individuals, corporations, foundations, and community organizations."
Founded in February 2013, the Top Line Vocal Collective is a forty-member, community based choral ensemble comprised of some of Vancouver's most celebrated voices.
The "Voices In Colour" concert will showcase special surprise guests and the diverse talent of the Top Line Vocal Collective through a mix of inspiring performances by the whole vocal collective and a number of smaller ensembles.
Throughout the concert, guests will be treated to a visual multi-media experience including the debut music video screening of "Lifeboat" by R&B/Soul recording artist and Top Line Director Warren Dean Flandez.
Tickets are $25 available in advance from Studio Cloud 30. For more information or to purchase tickets, please call (604) 696-1830 or email topline@studiocloud30.com.
Eli Bennett will be featured with Canadian music stars Roy & Rosemary.