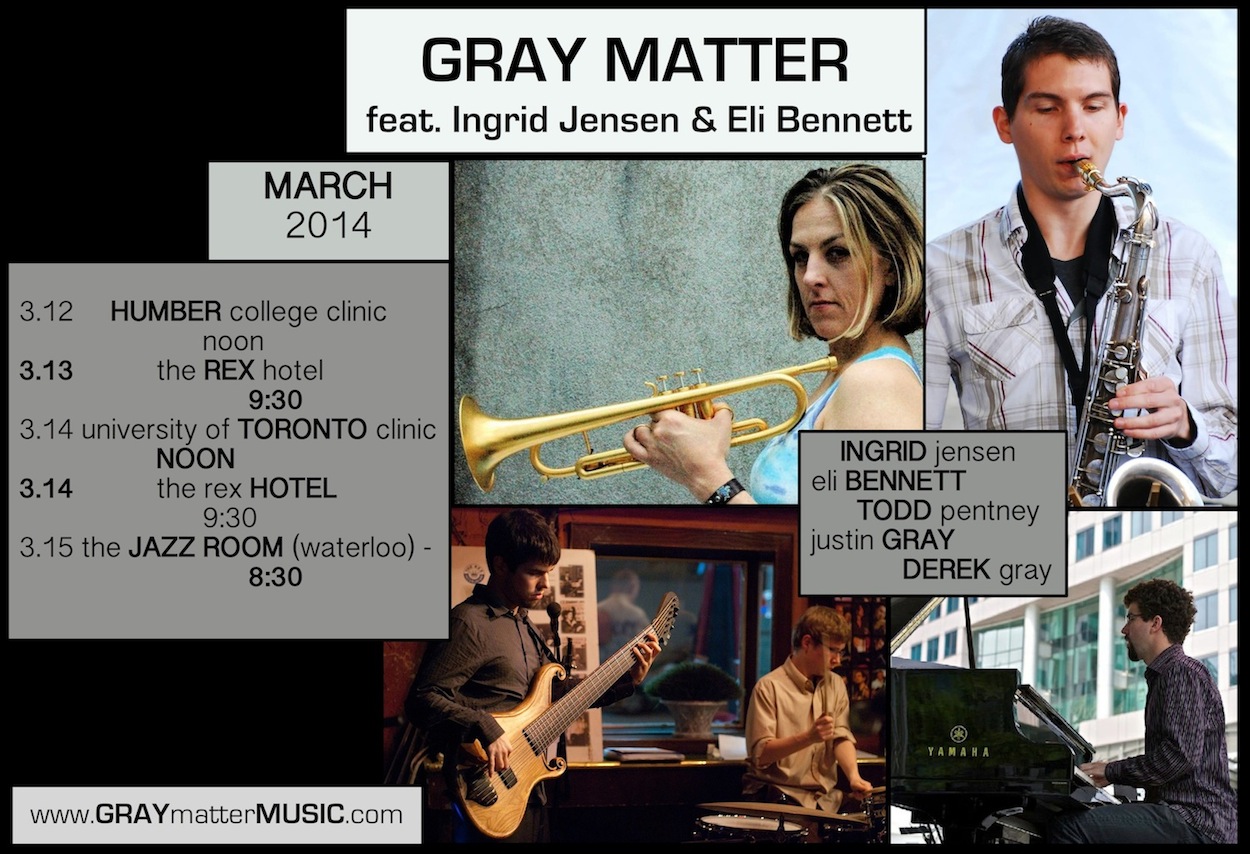 Toronto, ON
Gray Matter (Feat. Ingrid Jensen & Eli Bennett) @ UofT Clinic
Gray Matter – the contemporary jazz group co-led by brothers Justin and Derek Gray – is set for a Southern Ontario Concert Series. The bass/drum duo of Justin (www.justin-gray.com) and Derek (www.derekgray.ca) were born and raised in Toronto's east end.   They will share the stage with Grammy® award-winning trumpeter Ingrid Jensen (www.ingridjensen.com) and Vancouver's rising star tenor saxophonist/film composer Eli Bennett (www.elibennett.com) in mid-March.
Gray Matter brings a unique blend of modern jazz and groove-based music, with influences ranging from John Coltrane to James Brown.  The group will be playing two-nights at Toronto's Rex Hotel, a Saturday feature performance at The Jazz Room in Waterloo, and holding workshops at Humber College and the University of Toronto – aiming to connect with all generations of Canadian music lovers.
Wed, Mar. 12 – Workshop @ Humber College – 12 pm
Thurs, Mar. 13 – The Rex Hotel – 9:30 pm
Fri, Mar. 14 – Workshop @ University of Toronto – 12 pm
Fri, Mar. 14 – The Rex Hotel – 9:30 pm
Sat, Mar. 15 – The Jazz Room (Waterloo) – 8:30 pm
"… Every time Justin and I get to make music together – it's deeper than notes or rhythms," says Derek Gray. "Add Ingrid and Eli to the mix – the music comes alive".
For more information about Gray Matter, please visit: www.graymattermusic.ca
Learn more about the Gray brothers at www.derekgray.ca and www.justin-gray.com