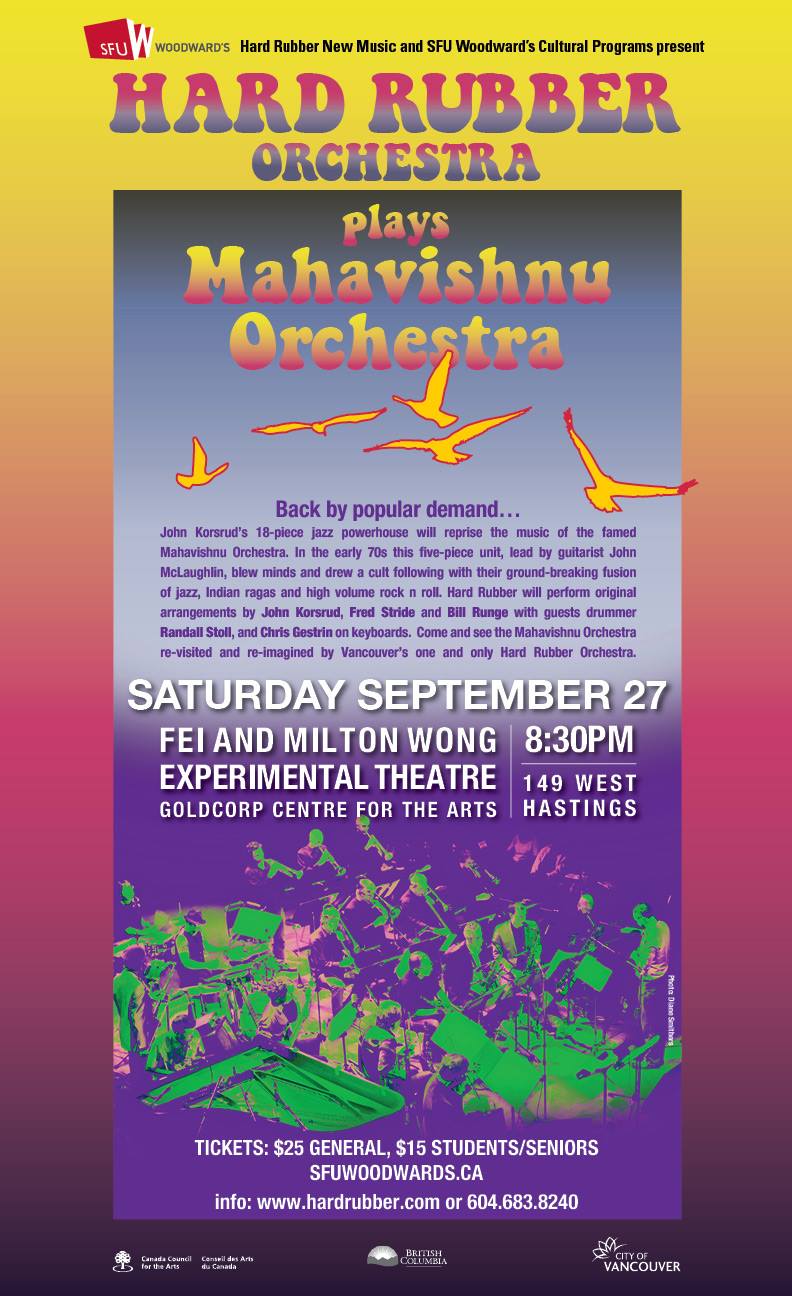 Address :
SFU Woodwards: Goldcorp Centre for the Arts
149 West Hastings St. Vancouver, BC
Vancouver, BC
Hard Rubber Orchestra @ SFU Woodwards
Back by popular demand! Hard Rubber Orchestra, John Korsrud's 18-piece jazz powerhouse, will reprise the music of the famed Mahavishnu Orchestra. In the early 70's, this five-piece unit, lead by guitarist John McLaughlin, blew minds and drew a cult following with their ground-breaking fusion of jazz, Indian ragas and high volume rock. Hard Rubber will perform original arrangements by John Korsrud, Fred Stride, Bill Runge and others, with guests; drummer Randall Stoll, and Chris Gestrin on keyboards, along with the 18-piece orchestra. HRO presented this popular tribute in 2012, and is excited to once again give audiences a chance to see the Mahavishnu Orchestra re-visited and re-imagined by Vancouver's one and only Hard Rubber Orchestra.
Formed by artistic director John Korsrud in 1990, the Hard Rubber Orchestra has consistently been one of Canada's most active and unpredictable ensembles of creative music, presenting concerts of original music by some of Canada's most exciting composers, performed by Vancouver's finest musicians. The orchestra has recorded three CDs, toured across Canada and to Europe. In 2005, they were the recipients of the Alcan Arts Award, the largest arts award in Canada for the creation of new work. They have produced several large theatrical works such as operas, avant ice shows, and arts raves. The have commissioned nearly 100 new works by composers such as Kenny Wheeler, Brad Turner, Phil Dwyer, Michael Blake, Fred Stride, Hugh Fraser, Peter Hannan, Linda Bouchard, Howard Bashaw, and Montreal's Jean Derome and René Lussier. In 2013, they premiered Scott Good's new work featuring former Kronos Quartet cellist, Jeffrey Zeigler.
"John Korsrud likes a good challenge. Last year, he and his Vancouver-based 18-piece Hard Rubber Orchestra performed two big-band concerts of songs by the Mahavishnu Orchestra, the 1970 jazz-rock quintet that favoured odd time signatures and high-octane delivery. To these ears, that second concert was the best show at last year's jazz festival." – Marke Andrews, Vancouver Sun