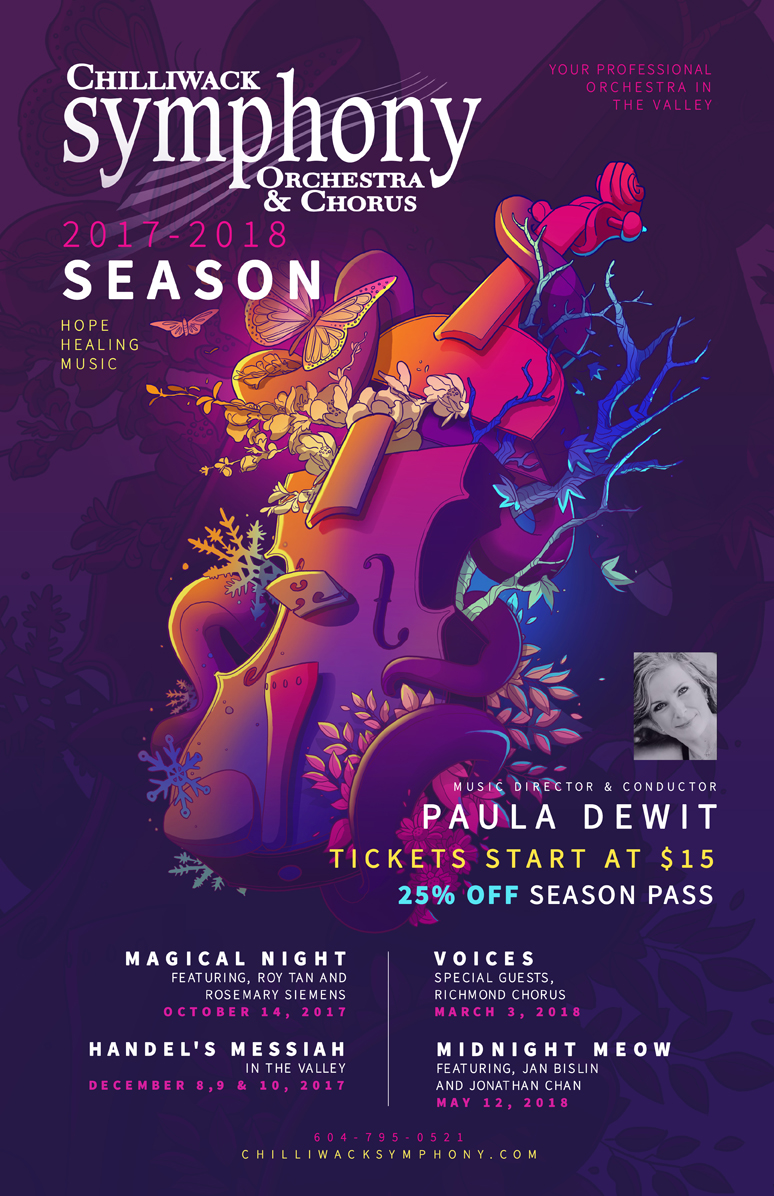 Address :
First Ave., 46510 First Avenue, Chilliwack, BC
Chilliwack, BC
Roy & Rosemary w/ The Chilliwack Symphony @ First Avenue CA
Chilliwack Symphony Orchestra & Chorus begin their 2017-18 concert season on October 14, 2017 at 7:30 p.m. with guest artists, the young and talented Canadian piano and violin duo – Roy and Rosemary. Their performance at the season premiere, MAGICAL NIGHT, will deliver Hollywood's beloved cinematic instrumental songs to our Chilliwack Symphony Orchestra concert stage at First Ave Assembly. Favourites we all know and love from yesterday and today will be the order of the day.
Currently based in Vancouver, Roy Tan & Rosemary Siemens first met while accompanying The Canadian Tenors. The realization they were musically in sync with each other led them in 2012 to create their unique genre of piano and violin pop duo with orchestra, and with extensive touring, they have quickly developed a most impressive performance pedigree. Their numerous concerts have been well-received all around the world and include the well-known venues of Carnegie Hall, and in 2016, St. Peter's Basilica at the Vatican where they had the opportunity to perform a piece they had composed themselves.
Comfortable with both classical and pop music, they both have remarkable improvisational talents and perfect pitch. They have released two albums: Once Upon a Dream and A Timeless Christmas (with Mary Zilba) and one single: Kiss the Rain. At the upcoming Chilliwack Symphony performance, they will be performing the original He Lives, based on traditional hymns, and written by Roy Tan. Another fact of particular interest concerns the violin now owned by Rosemary. It is a 300 year old instrument once played in King Louis XIV's orchestra.
A popular feature of Roy and Rosemary's shows is their practice of taking requests from the audience, often even learning and arranging unfamiliar tunes instantly, inviting the audience to be a part of the show and a key ingredient in the creative process. Their talents do not end there, however. They will keep you wanting more when you hear one, or sometimes both of them taking up a microphone and serenading you with their voices.
The wonderful Chilliwack Children's and Youth Choir, organized two seasons ago by Paula DeWit, will be singing parts of Leonard Cohen's Hallelujah featuring Rosemary on her violin. The choir will also be heard in a gospel number, How Great Thou Art.
Tickets start at only $15 for this performance and are available at King's Music (45450 Luckakuck), online at chilliwacksymphony.com, at the CSO box office by phoning 604-795-0521, or in person at the door (46510 First Ave).