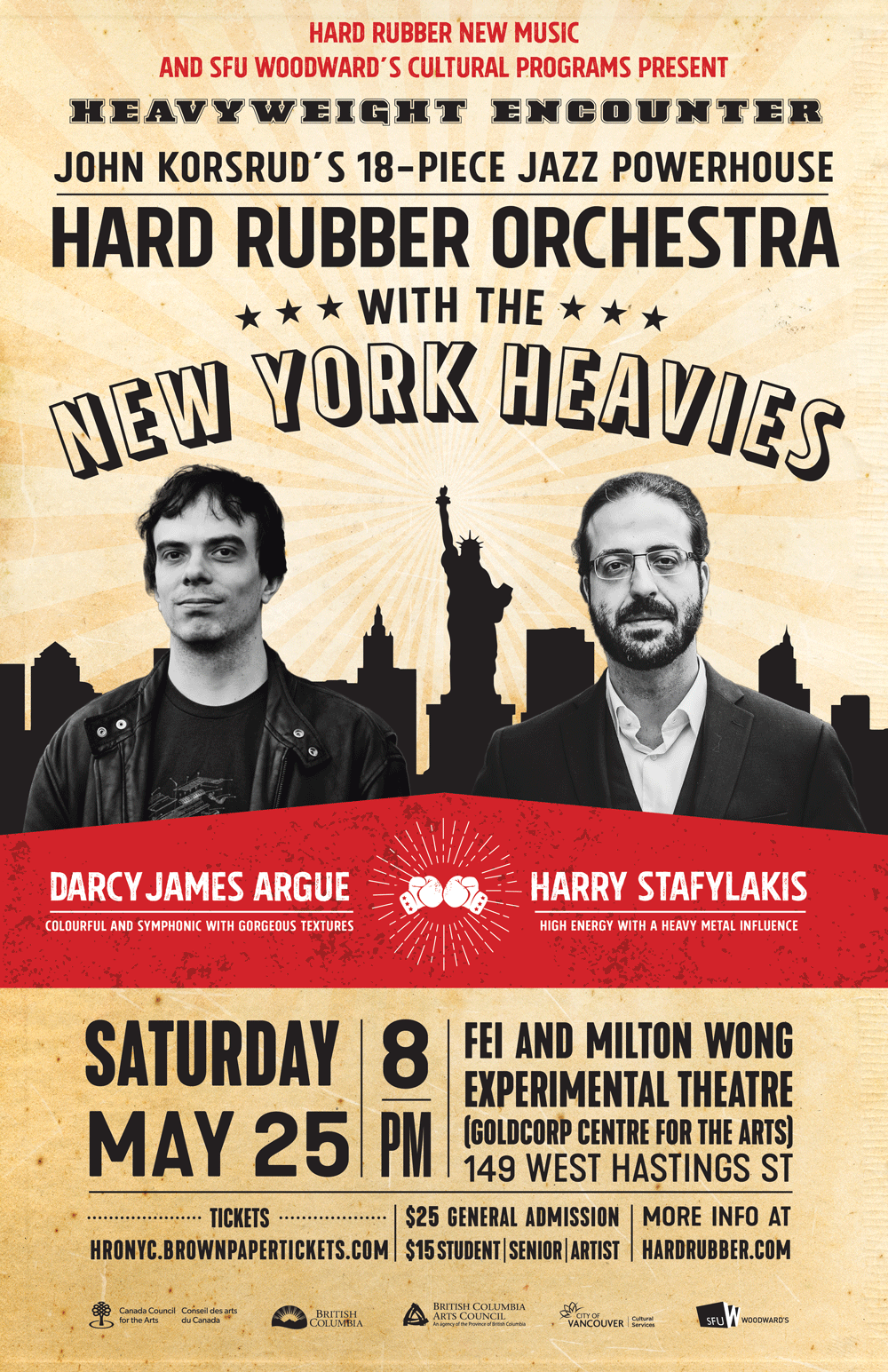 Address :
Fei & Milton Wong Experimental Theatre 149 W Hastings St, Vancouver, BC
Vancouver, BC
Hard Rubber Orchestra @ SFU Woodwards
On Saturday, May 25 at the Fei and Milton Wong Experimental Theatre (Goldcorp Centre for the Arts), Hard Rubber New Music in partnership with SFU Woodward's Cultural Programs, presents new works by two of New York's most exciting, Canadian composers, Darcy James Argue and Harry Stafylakis.  This electrifying and eclectic program promises to thrill Hard Rubber's audience with these new commissioned works by leading voices in current jazz orchestra composition.
Darcy James Argue is one of jazz's fastest rising stars today. He leads his renowned Darcy James Argue's Secret Society in New York, and has won several awards world-wide, including three consecutive Grammy nominations. He will present a new work written for the Hard Rubber Orchestra, and reprise his gorgeous and triumphant Tensile Curves, written for HRO in 2014.
Harry Stafylakis will be premiering his work Source Code written for Hard Rubber Orchestra, a high-powered work reflecting his love for prog heavy metal reminiscent of bands such as Animals as Leaders or Meshuggah. This virtuosic work will feature drummer Eliot Doyle and guitarist Adrian Verdejo.
John Korsrud will present his Songs from the Nunnery, a poem to heaven and hell in Vancouver's Downtown Eastside, featuring cellist Marina Hasselberg and pianist Lisa Miller.
Commissioning and premiering new work has always been an important part of Hard Rubber Orchestra's mandate and we couldn't be more excited to present these fantastic new works by these amazing artists.
Formed in 1990, the Hard Rubber Orchestra, one of Canada's most active and unpredictable ensembles of new music and recipient of the 2005 Alcan Arts Award, has released 4 CDs, including the newly released Suite for Hard Rubber by Kenny Wheeler (Justin Time Records), toured across Canada and to Europe, and produced large scale productions including Cantata for a King, and The Ice Age, a new music ice show.